Superior Industries names
Belt Tech as a full line dealer
Superior Industries Inc. announced that Belt Tech Industrial has been named a full line dealer of its growing group of bulk processing and handling equipment. For two decades, the Indiana-based company has distributed Superior's brand of conveyor components. Now, with this expanded partnership, Belt Tech will additionally sell and service Superior's crushing, screening, washing, and conveying equipment throughout Indiana, Kentucky, and Tennessee.
"This expanded partnership with Superior allows us to grow our business in a way that will ultimately benefit our customer base," says Belt Tech CEO Jordan Russell. "Material producers can expect the same reliable, high-quality customer service that Belt Tech is known for, but we can now support their processing and handling equipment needs as well. It's great to be able to provide that added value.
"We have always tried to partner with manufacturers who provide the best possible support, care about their customers and most importantly produce great products," he adds. "So when the decision was made to expand our business into processing and handling equipment, Superior became the obvious choice."
In addition to its home in Washington, Ind., Belt Tech operates from service locations in Illinois and Kentucky.
Source: www.aggman.com
Author: Therese Dunphy
Belt Tech Celebrates 25 Years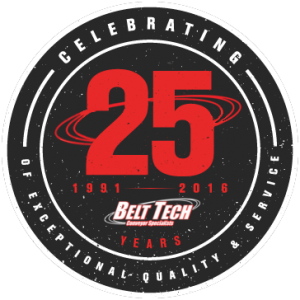 WASHINGTON, Ind. – Belt Tech Industrial, founded in 1991, is celebrating 25 years of business in 2016.
Over the years, Belt Tech Industrial has enjoyed immense success and forged strong relationships with its customers, providing exceptional quality and service. We extend a sincere thank you to all our customers, suppliers, partners and employees.
As we celebrate this milestone, the Belt Tech family looks forward to a prosperous future.
Learn more about Belt Tech Industrial and its history.
Indiana-Based Belt Tech Opens Office in Madisonville, KY
EVANSVILLE, Ind. – Belt Tech Industrial, headquartered in Washington, IN, recently opened a fourth branch location in Madisonville, KY. The Madisonville Belt Tech team will serve industrial customers in the Madisonville and Hopkins County area including mining operations, power plants and aggregate stone producers.
Belt Tech sells, installs and services conveyor belting and components and designs custom conveyor solutions. The company was founded in Washington, IN, in 1991 to serve area coal and power-producing companies. In addition to its home office in Washington, Belt Tech operates from an office in Du Quoin, IL.
"There's a huge potential to serve customers in the Madisonville area, and our new branch location will allow us to be close at hand so that we can do that to the very best of our ability," says Jordan Russell, the company's chief executive officer. Russell reports Madisonville operations will begin with a crew of four employees, and that the company hopes to expand the Madisonville team within its first year there.
Belt Tech is opening the Madisonville branch location with a sizeable initial community investment.
"The mining industry continues to be strong in Hopkins County, and Belt Tech will be a good fit," remarks Hopkins County Judge Executive Donnie Carroll. "We welcome the jobs and investment they're bringing to Hopkins County, and look forward to working with them as they grow."
Russell says Belt Tech's Madisonville-area operations represent a crucial part of its long-term growth strategy, and that the new location will strengthen the company's foundation.
"With the Madisonville office we'll be able to provide on-the-spot, quality services in that area while our customer base grows. High-caliber products and an expertise at conveyor maintenance and other conveyor services are really our cornerstone. We want to have a consistent presence in the Hopkins County area to provide that."
Learn more about Belt Tech Industrial, its products and services at belttech1.com.
Learn More About Belt Tech Industrial!
For more information on MAXX TUFF conveyor belts, please click on the image to download our brochure.
Belt Tech is your premier source for any products or service needed to maintain a productive conveyor system. A partnership with Belt Tech means that your business will have solutions that provide cost efficiencies, minimal downtime, lower cost of ownership and greater return on investment in any industry. We invite you to review additional information regarding our company, our products and services with the attached brochure.